Vasantha appeals for Prof. Saibaba's transfer to Telangana jail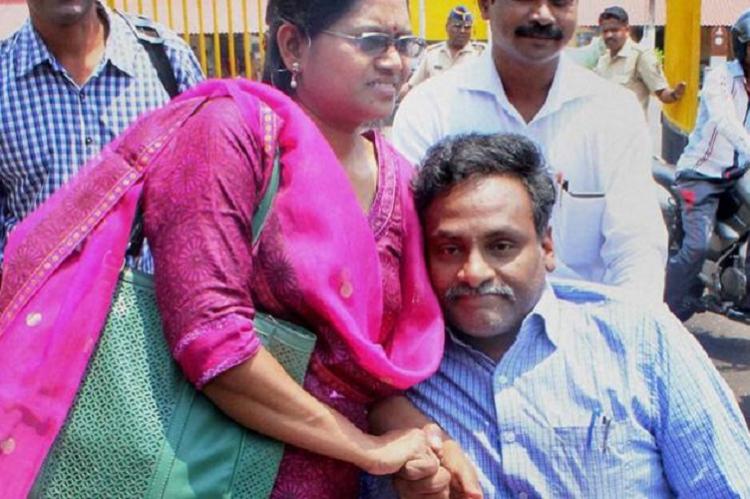 Image: PTI
Kobad health alarm
Vasanta for Saibaba
In a letter dated February 2, 2018, Vasantha Kumari, women's rights activist and wife of Dr. G.N. Saibaba jailed in Nagpur Central prison for above 14 months, has requested the Governor of Maharashtra for the transfer of her husband, Prof. Saibaba from Nagpur to Cherlapalli Central Jail, Hyderabad, Telangana.
Vasantha has been working for women's rights since 1992 and has been part of organisations such as Chaitanya Mahila Sangham in A.P. and Committee Against Violence on Women (CAVOW), Women Against Sexual Violence and State Repression (WSS) and Committee for Release of Political Prisoners (CRPP). She received three letters from
Prof. Saibaba
in January 2018 in which he sought
emergency medical investigation and treatment of his 19 health problems, multiple stones in gallbladder and immediate surgery needed (to be advised by The Department of Gastroenterology, Government Medical College, and Hospital, Nagpur)
Saibaba's flailing health condition
In all these letters, while explaining his critical condition and deterioration of his health, he describes his suffering in past months without any medical care and treatment. Though he has been advised to go for an immediate surgery for removal of the gallbladder, which is causing frequent attacks on his pancreas and may cause fatal form of jaundice.
"It is impossible for me to survive here during the winter that starts from November." He said before winters started. He lacked a blanket and sweater/jacket, was "shivering with continuous fever."
However, even after repeatedly drawing attention to these grave health issues, including his heart problem, severe pain in the stomach, there seems to have been no attempts at addressing his situation.
Persisting health situation
Prof Saibaba suffers from a spinal disorder that has resulted in the rapid deterioration of his muscles and nerves, which means that he can't walk or use his left arm. His rib cage is collapsing on his lungs. The fact of him being 90 percent disabled requires constant medical care to stop his condition from declining gradually.
Mishandling by Jail staff
Through these letters, Saibaba also reported that the jail staff were not adept at handling a disabled person. He narrowly escaped a fall from the wheel chair and the danger of breaking his polio affected bones. The jail staff is not trained at handling a severely disabled person.
Vasantha added, "My husband's left-hand disfunctioning happened after a severe damage to muscles and nerves because of the mishandling at the time of incarceration. He has to suffer for the damage for the rest of his life. Without the presence of family members, it is difficult to him to move in a wheelchair."
Vasantha requested to consider her earlier representation on the transfer of Saibaba, from Bagpur Central Prison to Cherlapalli Central Prison, Hyderabad so that his family members residing there could meet and extend moral support to him. Medical support can also be extended in a better manner as there are Government hospitals available with required facilities.
Concerns with the Gadhchiroli Sessions Court Judgement
The Gadhchiroli Sessions Court in Maharashtra, in its judgment of March 7, 2017, sentenced G N Saibaba, Prashant Rahi, Hem Mishra, Mahesh Tirki and Pandu Narote to life imprisonment while Vijay Tirki was sentenced to 10 years' rigorous imprisonment. However, activists and intellectuals across quarters have criticized the judgement for being flawed and for
misusing the draconian Unlawful Activities Prevention Act
(UAPA). It has been said that the judgment, apart from citing irrelevant documents, has ignored valid evidence and arguments presented by the defence, and accepted dubious versions of the same presented by the prosecution. Civil rights activists also believe that the judgment displays "extreme animus" especially directed towards Saibaba, going to the extent of describing him thus: "though G N Saibaba is 90% disabled, he is mentally alert."
This seems to have arisen out of state's vendetta against Professor Saibaba for the sympathy that was shown by the
higher courts
in granting him bail and also the
widespread protests
that followed his arrest in 2014. The sessions judge was insensitive enough to not even grant him basic facilities that were granted by earlier courts, such as medical assistance, attendants, diet, and so on, leaving him at the mercy of the prison authorities!
Fighting Corporates synonymous to Waging War?
Professor GN Saibaba is currently serving life in prison in Nagpur Central Jail for allegedly
"waging war
against the country and supporting the ideology of a banned organisation (CPI Maoist)". However, the worldwide campaign that ensued in the aftermath of his arrest, has raised several serious concerns about such charges in the light of a draconian act UAPA. Whether Saibaba was waging a war against the state, or standing in between corporate greed and state support to the same, can be understood by this paragraph, which the
judgment
itself quotes, "
the situation of Gadchiroli district from 1982 till today is in paralyzed condition and no industrial and other developments are taking place because of fear of naxal and their violent activities. Hence, in my opinion, the imprisonment for life is also not a sufficient punishment to the accused but the hands of the Court are closed with the mandate of Section 18 and 20 of UAPA and in my opinion it is a fit case to award sentence of imprisonment of life" (para 1013, pp 818–19)
"
Wrath of the State
GN Saibaba
began his activism when he stood for reservations in the early 1990s, against those who were pushing to end reservations for lower-caste people in India. In that decade, he also campaigned against what he said were "encounter killings" of innocent people and Naxalites in Andhra Pradesh. Through his activism, Saibaba travelled all over the tribal belt in central India. He was teaching English in Delhi University and was well recognised for fine intellectualism and insights. He would get invited to several conferences and other universities.
In September 2009, the Indian government launched Operation Green Hunt, in the name of fighting the "
biggest internal security threat
" but in fact, to facilitate the mining giants which were showing interest in the area. "I gathered enough evidence that suggested the ruling class wanted access to their resources no matter what. So the Operation Green Hunt was launched to kill, maim and dislodge these people,"
Saibaba had noted
. At the height of the operation, between 2009 and 2012, Saibaba galvanised people through a group called Forum Against War on People. He organised a national campaign against the military operation that he said resulted in investors pulling out from the area. According to Saibaba, "the best way to stop me was to throw me in jail."
International Covenants and Requisites for Justice
Though India is a signatory to the International Covenant on Civil and Political Rights (ICCPR), UN Convention on the Rights of Persons with Disabilities (UNCRPD) and the UN Resolution 70/175 on Standard Minimum Rules for the Treatment of Prisoners (Also known as the Nelson Mandela Rules), all of which reaffirm the right to life with dignity of prisoners, Prof. Saibaba a person with a disability is being slowly pushed into death. The UNCRPD, which India also ratified, as well as the recently passed Rights of Persons with Disabilities Act, 2016 (RPD Act), which was enacted to fulfil India's obligation under the afore-mentioned convention, are wholly applicable to his case.
The Transfer of Prisoners Act, 1950, The Prisoners Act, 1900 and Article 226 of the Constitution of India for inter-state transfer and several Supreme Court Judgements on the convicts are entitled to transfer if sending and receiving states agree.
My pain, a voiceless song,
my being a nameless mote.
If only my pain could speak,
I'd know who I am.
And if myself could find its essence,
I'd unravel the mystery of this world.
If I could seize this hidden mystery,
my silence would find expression
(Faiz Ahmad Faiz)
Kobad health alarm
New Delhi: A six-week-old letter from Kobad Ghandy, the 71-year-old Maoist leader being held in a Jharkhand prison, has reached his friends in Delhi saying his health problems are "very serious" and "can lead to death". Ghandy, alleged to be a politburo member of the banned CPI (Maoist), wrote the letter to his prison superintendent on February 5 but could not reach him. He was only recently able to smuggle it out to his friends here, sources said.
Ghandy, held in various jails across the country since his arrest in Delhi in 2009, says his blood pressure has risen to 160/110 despite medication, and that arthritis and a slipped disc have made it difficult for him to walk.
"But the most acute problem is of the prostate/kidney/urinary which has become very serious.... Though the Jharkhand police have been very kind and during police custody even took me to the Bokaro General Hospital for prostate/kidney examination.... The doctor suggested a number of tests including ultrasound and for prostate cancer," the letter says.
"Though I have repeatedly reminded the Tenughat sub-jail authorities to follow up, nothing has happened though over a month has passed. Meanwhile, since the last 3-4 nights the problem has intensified, resulting in my having to pass urine 12-15 times (earlier 5-6 times) at nights."
The letter adds: "I am 71... if anything serious happened to my health, who will be responsible? All these problems (particularly urine) are chronic and if not dealt with urgently can lead to death. I request urgent action before it is too late."
Ghandy's lawyer Rohit Thakur told The Telegraph: "There's no doctor in the Tenughat sub-jail and my client can get treatment only if shifted to a proper hospital. He is denied even a mosquito net. He could not get this letter to the superintendent, who is based in Bokaro, so he has sent it to friends to post it directly to officials in Bokaro."